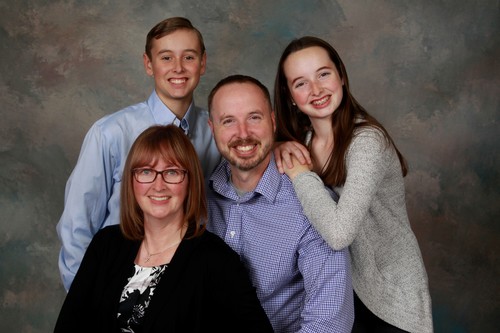 Nancy Hannah, her husband Clayton and their children Ethan and Elisabeth have been members of St. David Church since 2009. In 2014, after many years of volunteering in the church and the surrounding community, Nancy, supported and encouraged by her church family, felt called to explore her passion for ministry further and enrolled in the Youth Ministry Apprenticeship Program through the Anglican Church of Canada. Upon completion of the program in 2015 St. David welcomed Nancy as our Youth and Family Minister.
"The first time we walked in the door at St. David it felt like we had found our second home. Everyone was so warm and welcoming, and our children were encouraged to be active participants in the service." This passion and dedication at St. David, to live out the gospel, simply asking "What would Jesus Do?"; and then doing it, is what has inspired Nancy to develop several programs aimed toward empowering and equipping the youth in our community to become disciples of Christ, living out our baptismal covenant to serve, grow and connect with our neighbour and become the driving force behind the positive change we want to see in ourselves, our community and the world.
On any given day you can find Nancy chillin' out at the church with the cool kids, making a mess in the kitchen, singing in the choir or flyin' out the door, kids in tow, to her next adventure. Nancy is looking forward to becoming the new Area Youth Coordinator for York Simcoe this May, and we are excited to share her talents with the wider faith community. Want to get involved, or learn more about our amazing programs? Why not send Nancy a quick message.